PROCAUDOTESTIS CORDIFORMIS SP. NOV. (DIGENEA: APOCREADIIDAE), PARASITE OF RHINELEPIS STRIGOSA (OSTEICHTHYES: LORICARIIDAE) FROM URUGUAY RIVER BASIN, URUGUAY
Oscar Castro

María L. Félix

José M. Venzal
Abstract
Procaudotestis cordiformis sp. nov. (Digenea: Apocreadiidae) is described from specimens collected in the loricariid catfish Rhinelepis strigosa (Osteichthyes: Loricariidae) from Uruguay River basin, Uruguay. The new species is morphologically similar to the only species known of the genus, Procaudotestis uruguayensis Szidat, 1954. P. cordiformis is proposed for specimens with the following features: a heart-like body form, pharynx disproportionately larger, testes more anteriorly located, ovary and anterior testis with overlapping fields, vitellaria less extended in relation to body length and with fields not confluent posteriorly, and eggs wider than those described for P. uruguayensis. An amended diagnosis of the genus Procaudotestis is proposed.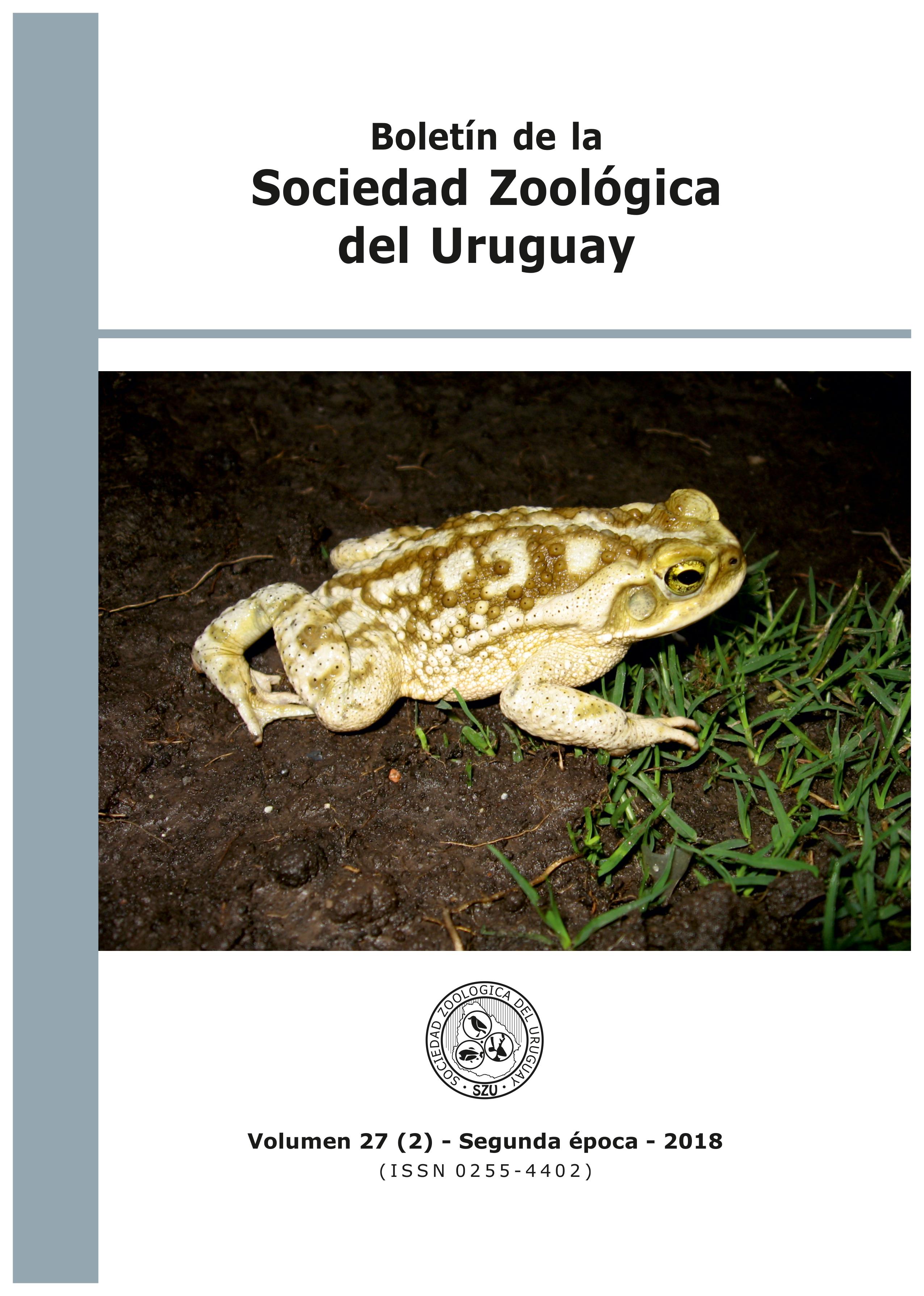 How to Cite
CASTRO, Oscar; FÉLIX, María L.; VENZAL, José M.. PROCAUDOTESTIS CORDIFORMIS SP. NOV. (DIGENEA: APOCREADIIDAE), PARASITE OF RHINELEPIS STRIGOSA (OSTEICHTHYES: LORICARIIDAE) FROM URUGUAY RIVER BASIN, URUGUAY.
Boletín de la Sociedad Zoológica del Uruguay
, [S.l.], v. 27, n. 2, p. 41-45, dec. 2018. ISSN 2393-6940. Available at: <
http://journal.szu.org.uy/index.php/Bol_SZU/article/view/62
>. Date accessed: 23 sep. 2020. doi:
https://doi.org/10.26462/27.2.3
.