DESCRIPCIÓN PRELIMINAR DE LA COMUNIDAD DE EPIBIONTES SOBRE EL COPÉPODO PARÁSITO Lernaea cyprinacea L. 1758 (CRUSTACEA, COPEPODA, LERNAEIDAE), FIJADOS EN PECES DE UN TAJAMAR EN MONTEVIDEO, URUGUAY
Daniel Carnevia

Maite Letamendía
Resumen
Preliminary description of the community of epibiontes on the parasitic copepod Lernaea cyprinacea l. 1758 (Crustacea, Copepoda, Lernaeidae), fixed in fishes of a lagoon in Montevideo, Uruguay. This work describes for the first time in Uruguay the community of epibiontes on the exotic invasive species of parasitic copepod Lernaea cyprinacea. We identified 15 species of epibionts in five copepods extracted from native fish: Gomphonema laticollum, Gomphonema sp., Paranemopsis trichophora, Tokophrya quadripartita, Tokophrya infusionum, Parapodophrya aff. palmigera, Acinetides lacustris, Vorticella  campanulata, Carchesium polypinum, Epistylis chrysemidis, Epistylis plicatilis, Rhabdostyla sp., Zoothalmium sp., Dileptus sp. and Embata aff. laticeps. It is clear that although L. cyprinacea is an exotic parasite, a good number of native epibionts can use it as a substrate. In each copepod, the species richness of epibionts was between 6 and 10, so we can speak of epibiont community. The most frequent epibiontes were Gomphonema sp., T.quadripartita, V. campanulata and E. chrysemidis.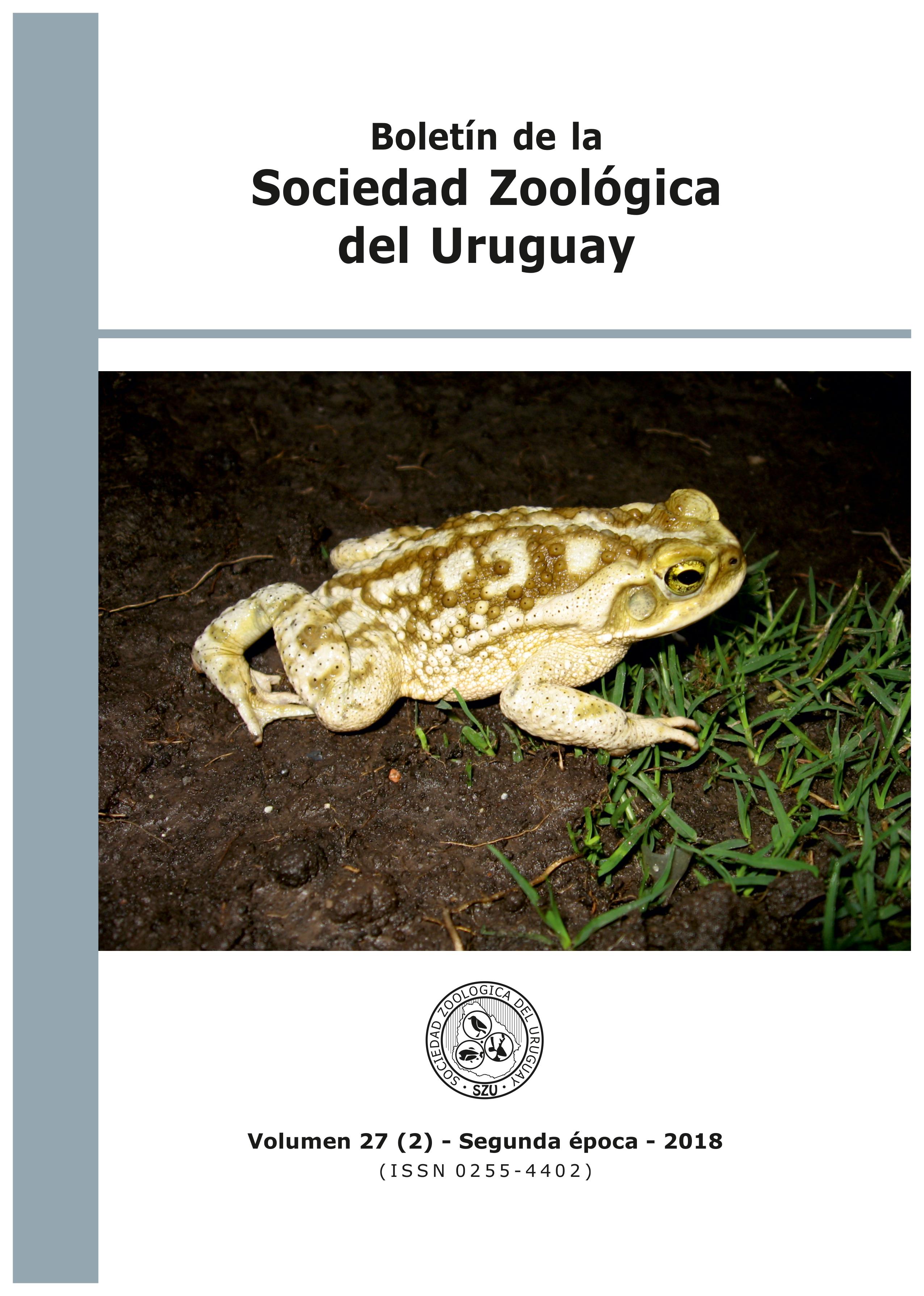 ##submission.howToCite##
CARNEVIA, Daniel; LETAMENDÍA, Maite. DESCRIPCIÓN PRELIMINAR DE LA COMUNIDAD DE EPIBIONTES SOBRE EL COPÉPODO PARÁSITO Lernaea cyprinacea L. 1758 (CRUSTACEA, COPEPODA, LERNAEIDAE), FIJADOS EN PECES DE UN TAJAMAR EN MONTEVIDEO, URUGUAY.
Boletín de la Sociedad Zoológica del Uruguay
, [S.l.], v. 27, n. 2, p. 46-56, dic. 2018. ISSN 2393-6940. Disponible en: <
http://journal.szu.org.uy/index.php/Bol_SZU/article/view/63
>. Fecha de acceso: 16 ene. 2021 doi:
https://doi.org/10.26462/27.2.4
.