ARTROPODOFAUNA CADAVÉRICA ASOCIADA A Sus scrofa L. EN EL SUR DE URUGUAY
Mónica Luján Remedios-De León

Facultad de Ciencias

Manuel Castro

Enrique Regino Morelli
Abstract
Forensic Entomology is the branch of science that uses arthropods as a tool in research when classical forensic methods are insufficient. It is thus that this branch represents an invaluable aid in cases where the human remains are colonized by insects. The most important contribution of  forensic entomology is associated with the estimation of the post-mortem interval since some species of the sarcosaphage community are associated with specific stages of the decomposition process. The
Artropodofauna cadavérica decomposing organic remains, both animal and human, undergo a series of physical, chemical and biological changes, transforming it into a nutritionally rich but provisional resource, for different taxa of animals. During the decomposition process, the orders Diptera, Coleoptera and Hymenoptera, are predominant in diversity and abundance. The objective of this work is to present the first seasonal study of cadaveric arthropodofauna on experimental porcine models in a
forest environment for Southern Uruguay. For this, two specimens of white pig (Sus scrofa L.) were used as biological model. A malaise trap, entomological net and manual capture were used for the capture of adult insects. A total of 2926 adults  was collected from three orders and 14 families. The greatest species richness was observed in the summer season and in the lower spring.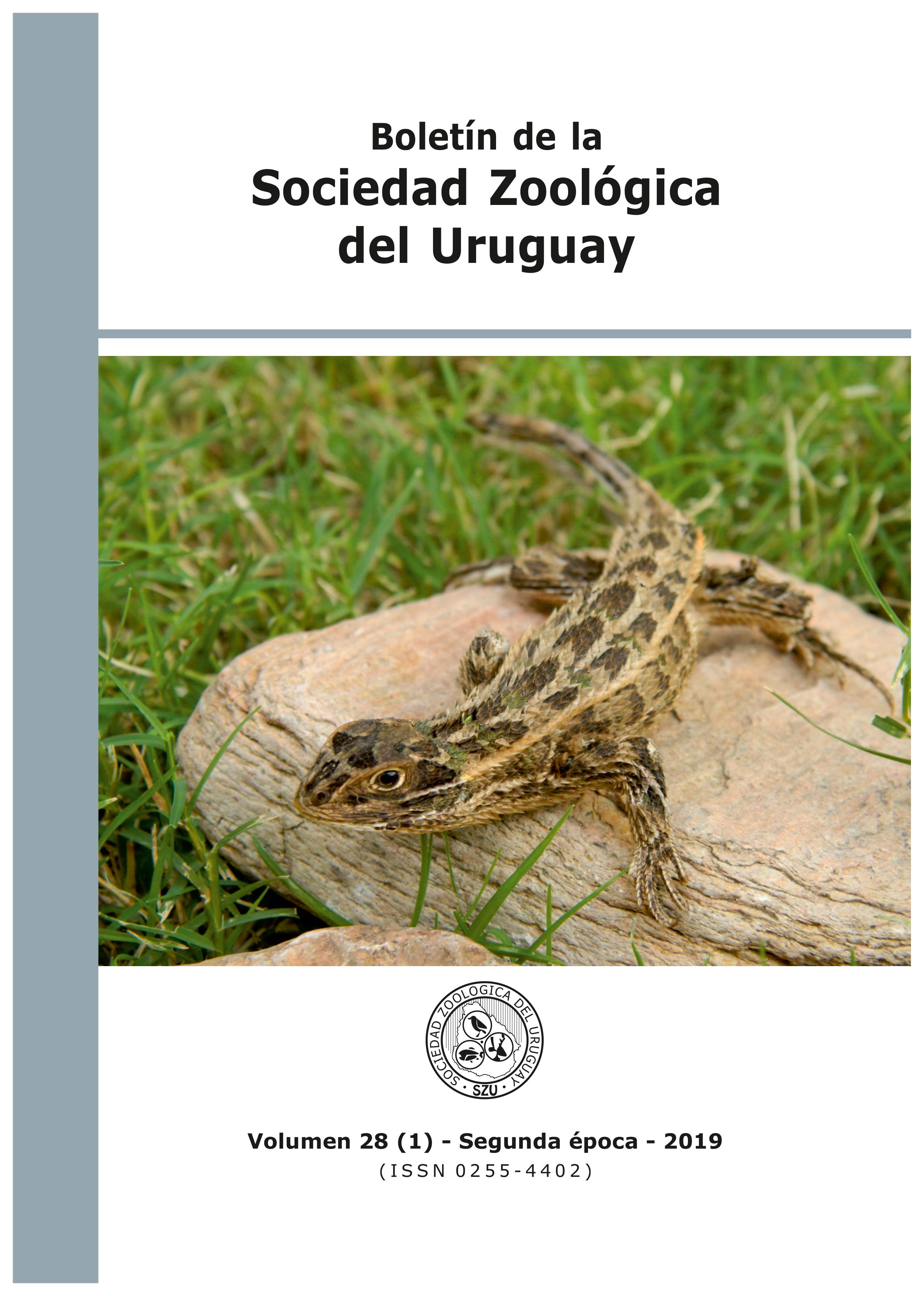 How to Cite
REMEDIOS-DE LEÓN, Mónica Luján; CASTRO, Manuel; MORELLI, Enrique Regino. ARTROPODOFAUNA CADAVÉRICA ASOCIADA A Sus scrofa L. EN EL SUR DE URUGUAY.
Boletín de la Sociedad Zoológica del Uruguay
, [S.l.], v. 28, n. 1, p. 21-28, july 2019. ISSN 2393-6940. Available at: <
http://journal.szu.org.uy/index.php/Bol_SZU/article/view/72
>. Date accessed: 18 aug. 2019.