DIVERSITY AND ABUNDANCE OF HATCHED SKATE (CHONDRICHTHYES: ELASMOBRANCHII: RAJOIDEI) EGG CASES AT CASSINO BEACH, RIO GRANDE DO SUL, BRAZIL
Lucas de Oliveira Afonso Cordeiro

Maria Cristina Oddone Franco
Abstract
On the beach of Cassino, Rio Grande do Sul, Brazil, thousands of hatched capsules of Rajoidei (suborder of oviparous rays) are brought ashore by the tides remaining exposed on the shore. The objective of this work was to analyze the taxonomic diversity of these egg capsules and to analyze the frequency of occurrence of the present taxa. The egg capsules used in the study come from manual collections performed on the beach in two periods; between the years of 2009 and 2012 and between 2016 and 2017, in Cassino beach. The egg capsules found corresponded to the genera Rioraja, Sympterygia, Atlantoraja and Psammobatis. In the first period, the number of capsules collected was 3050 for R. agassizi, 1180 for S. acuta, 75 for S. bonapartei, four for A. castelnaui, one for P. extenta, one for P. rutrum and one for P. bergi. In the second period, there was 1821 for S. acuta, 1681 for R. agassizi, 138 for S. bonapartei, nine for A. castelnaui and one for P. rutrum in record. Still, it is recorded in the present work in the occurrence of an egg capsule of the genus Zearaja cf., found in the year 2001.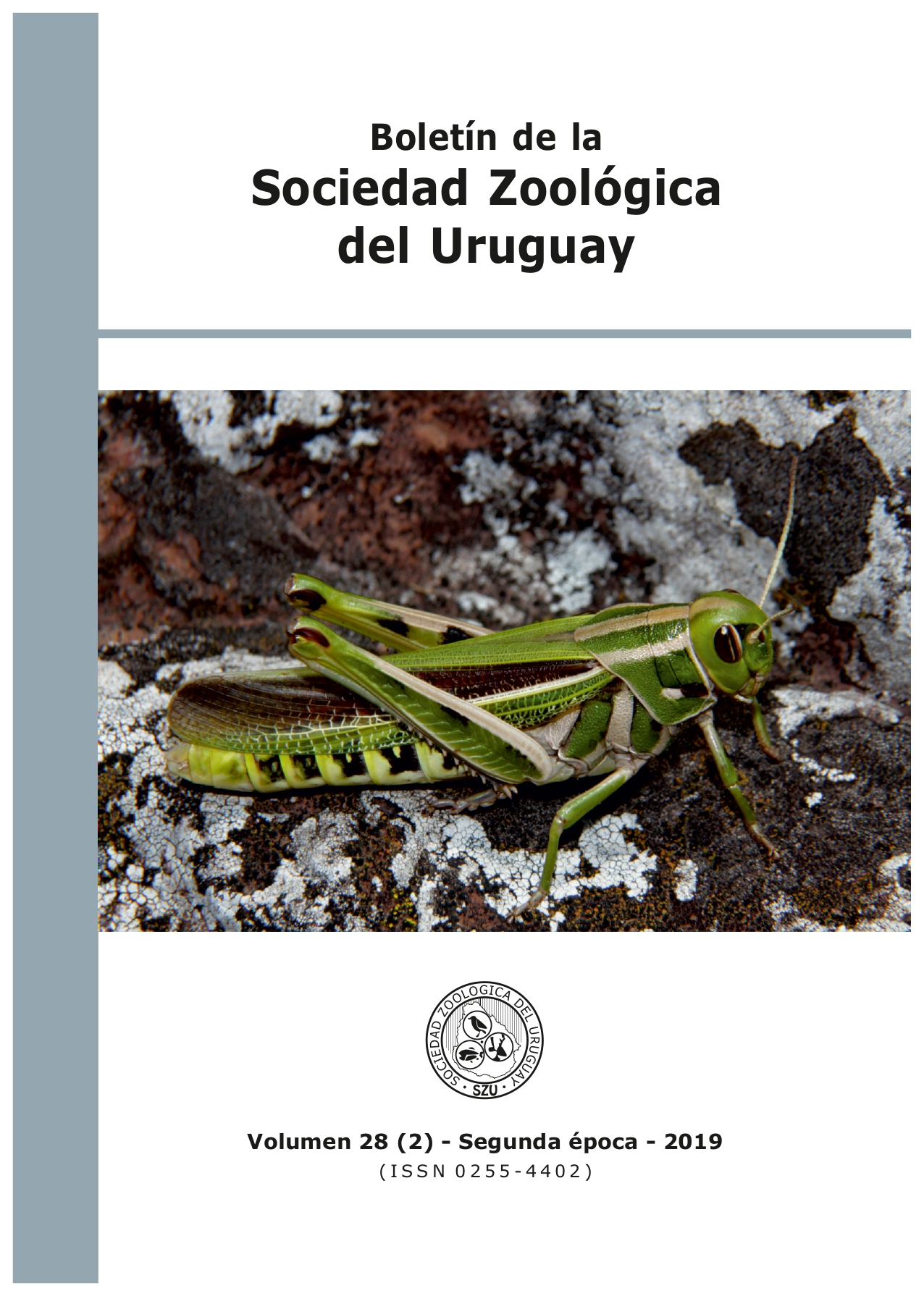 How to Cite
DE OLIVEIRA AFONSO CORDEIRO, Lucas; ODDONE FRANCO, Maria Cristina. DIVERSITY AND ABUNDANCE OF HATCHED SKATE (CHONDRICHTHYES: ELASMOBRANCHII: RAJOIDEI) EGG CASES AT CASSINO BEACH, RIO GRANDE DO SUL, BRAZIL.
Boletín de la Sociedad Zoológica del Uruguay
, [S.l.], v. 28, n. 2, p. 38-58, dec. 2019. ISSN 2393-6940. Available at: <
http://journal.szu.org.uy/index.php/Bol_SZU/article/view/73
>. Date accessed: 23 sep. 2020. doi:
https://doi.org/10.26462/28.2.1
.