REPORTE DE LA MEDUSA Aglauropsis kawari (CNIDARIA, HYDROZOA, LIMNOMEDUSAE) PARASITADA CON METACERCARIA DE Monascus filiformis (DIGENEA, FELLODISTOMIDAE) EN EL ESTUARIO DEL RÍO DE LA PLATA, URUGUAY
Marcia Regina Lauria Cruz

Gabriela Failla Siquier

Facultad de Ciencias - UdelaR
Abstract
Report of the jellyfish Aglauropsis kawari (Cnidaria, Hydrozoa, Limnomedusae) parasitized with metacercariae of Monascus filiformis (Digenea, Fellodistomidae) in the Río de la Plata estuary, Uruguay. Within coastal surveys of gelatinous zooplancton hydromedusae conducted annually since 2016, a new record for Aglauropsis kawari is reported from the Río de la Plata estuary parasitized with Monascus filiformis metacercariae larvae. The known geographic distribution of A. kawari is extended to the coast of Maldonado county, Uruguay; in addition this medusa constitutes a new host for M. filiformis metacercariae.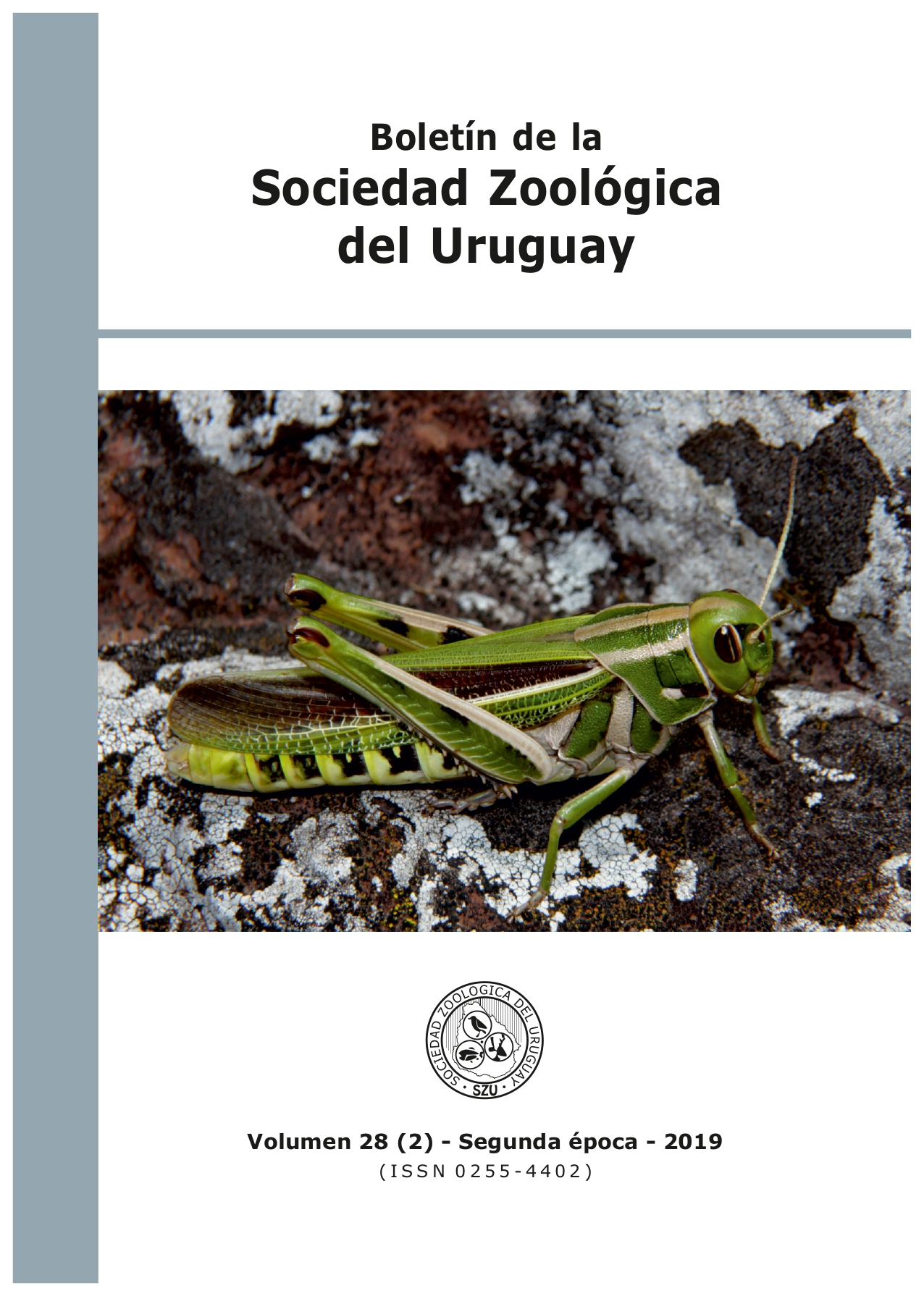 How to Cite
LAURIA CRUZ, Marcia Regina; FAILLA SIQUIER, Gabriela. REPORTE DE LA MEDUSA Aglauropsis kawari (CNIDARIA, HYDROZOA, LIMNOMEDUSAE) PARASITADA CON METACERCARIA DE Monascus filiformis (DIGENEA, FELLODISTOMIDAE) EN EL ESTUARIO DEL RÍO DE LA PLATA, URUGUAY.
Boletín de la Sociedad Zoológica del Uruguay
, [S.l.], v. 28, n. 2, p. 100-102, dec. 2019. ISSN 2393-6940. Available at: <
http://journal.szu.org.uy/index.php/Bol_SZU/article/view/75
>. Date accessed: 23 sep. 2020. doi:
https://doi.org/10.26462/28.2.8
.