Gymnotus omarorum COMO MODELO PARA ESTUDIAR LAS BASES NEUROENDÓCRINAS DE LA AGRESIÓN TERRITORIAL NO REPORDUCTIVA
Resumen
The study of the modulation of territoriality in wild species is especially suited to explore the mechanisms underlying behavioral plasticity, by which animals respond to changing environmental and social contexts. This essay brings together two conceptual frameworks to explore the neuroendocrine basis of non-breeding territorial aggression in Gymnotus omarorum, a native electric fish which displays this behavior both in females and males. The first framework is ecological, based on the premise that when studying a wild species in its natural settings it is possible to analyze the proximal mechanisms that evolved to shape territorial behavior. The second framework is individual and is focused on the hormonal control of agonistic behavior in G. omarorum, because steroids are key in the integration of social, environmental, and internal information to execute an appropriate behavioral output. Within this framework, aggressive behaviors which occurr dissociated from the breeding season encourage the search of non-gonadal underlying regulatory mechanisms. In the natural habitat, territory size is independent of sex and determined by body size. Hormonal mechanisms underlying non-breeding aggression have been explored in dyadic encounters in lab settings, where, in line with what is observed in the natural habitat, males and females display robust aggressive contests, and outcome depends on body size. This agonistic behavior is independent of gonadal hormones and fast acting androgens. Nevertheless, it is dependent on fast acting estrogenic action, as acute inhibition of aromatization affects aggression engagement, intensity, and outcome. Transcriptomic profiling in the preoptic area region shows non-breeding individuals express steroidogenic enzyme transcripts, and after status consolidation dominants and subordinates show differential enzyme expression. Non-breeding adults display detectable brain and circulating levels of aromatizable androgens, non-detectable levels of circulating estrogens, and high levels of estrone, which constitute a clear evidence of brain synthesis of estrogens. This teleost model reveals there is a role of brain estrogen in the control of non-breeding aggression which seems to be common among distant vertebrate species.
Descargas
Los datos de descargas todavía no están disponibles.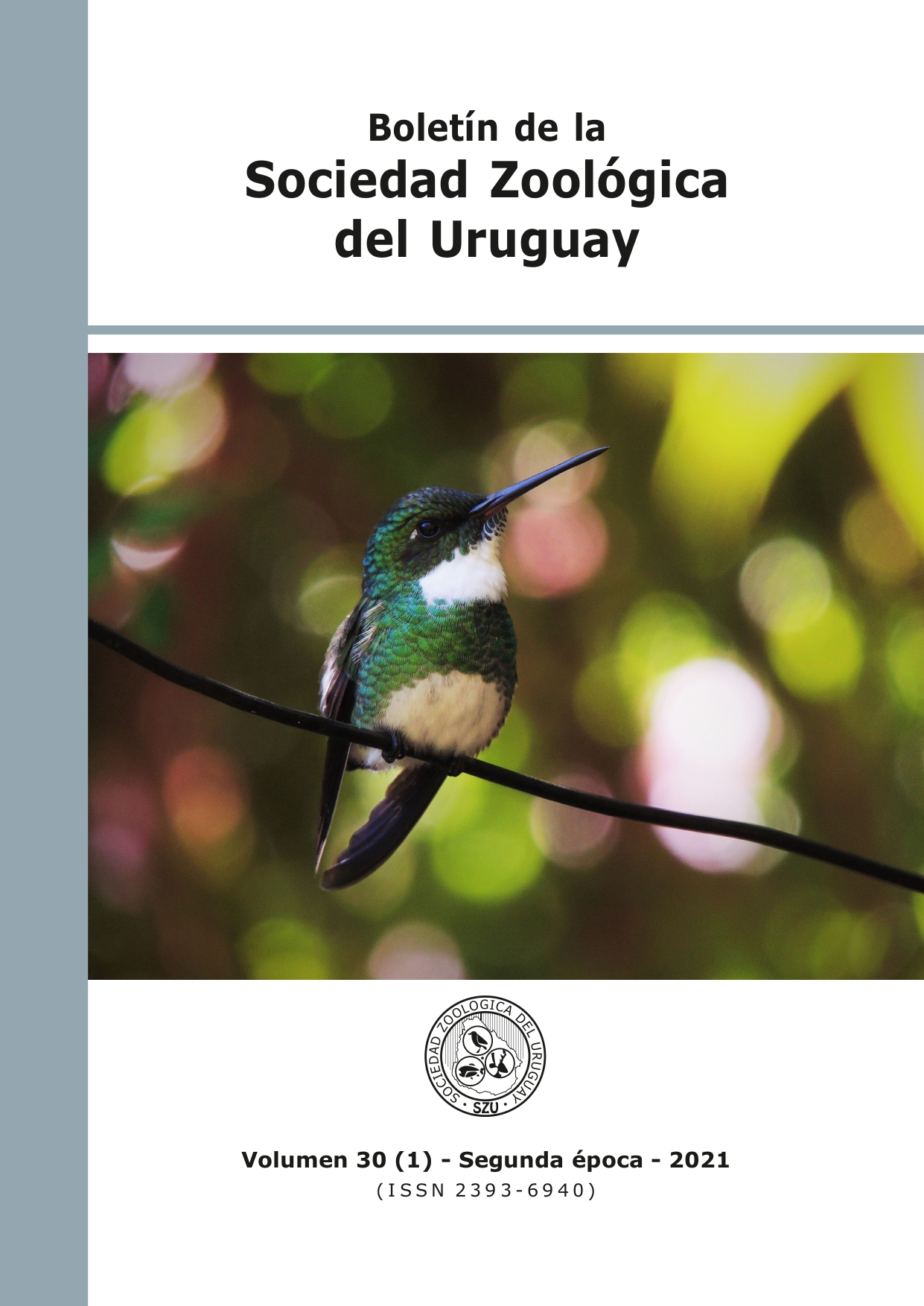 Descargas
Cómo citar
ZUBIZARRETA, L. Gymnotus omarorum COMO MODELO PARA ESTUDIAR LAS BASES NEUROENDÓCRINAS DE LA AGRESIÓN TERRITORIAL NO REPORDUCTIVA. Boletín de la Sociedad Zoológica del Uruguay, [S. l.], v. 30, n. 1, p. 70–83, 2021. DOI: 10.26462/30.1.8. Disponível em: https://journal.szu.org.uy/index.php/Bol_SZU/article/view/123. Acesso em: 5 dic. 2022.