SETAS URTICANTES EN TARANTULAS DE URUGUAY: ¿DEFENSA ACTIVA O PASIVA?
Citas
Álvarez L., Perafán C. & F. Pérez-Miles. (2016). At whattime, for what distance, and for how long doesthe tarantula Eupalaestrus weijenberghi(Araneae, Theraphosidae) leave its burrowduring the mating season? Arachnology,17(3):152-154.

Bertani R. (1997). Estudo comparativo dos pêlosurticantes em Theraphosinae (Araneae,Theraphosidae). Actas 1er. EncuentroAracnólogos Cono Sur, p. 29.Bertani R. & O.A.V.

Marques. 1996. Defensivebehaviors in mygalomorph spiders: release ofurticating setae by some Aviculariinae (Araneae,Theraphosidae). Zoolgischer Anzeiger, 234:161-165.

Bertani R., Boston T., Evenou Y. & J.P.L. Guadanucci.2003. Release of urticating hairs by Aviculariaversicolor (Walckenaer, 1837) (Araneae,Theraphosidae). Bulletin of the BritishArachnological Society,12:395-398.

Bertani R. & J.P.L. Guadanucci. 2013. Morphology,evolution and usage of urticating setae bytarantulas (Araneae:Theraphosidae). Zoologia,30: 403-418.

Blatchford R., Walker S. & S. Marshall. 2011. Aphylogeny-based comparison of tarantula spideranti-predator behavior reveals correlation ofmorphology and behavior. Ethology, 117:473-479.

Bristowe W.S. 1941. The comity of spiders. London,Ray Society, 560p.

Bücherl W. 1951. Estudo sobre a biologia e asistemática do gênero Grammostola Simon,1892. Monografias do Instituto Butantan, 1:1-126.

Cooke J.A.L., Roth V.D. & F.H. Miller. 1972. Theurticating hairs of theraphosid spiders. AmericanMuseum Novitates, 2498:1-43.

Costa F. & F. Pérez-Miles. 2002. Reproductive biologyof uruguayan theraphosids (Araneae,Mygalomorphae). Journal of Arachnology,30:571-587.

Ezendam T. 2007. The hunt for Blue Foot. Journal ofthe British Tarantula Society, 23: 30-33.

Foley S. Lüddecke T. Cheng D. Krehenwinkel H. KünzelS. Longhorn S.J. Wendt I. von Wirth V. TänzlerR. Vences M. & W.H. Piel. 2019. Tarantulaphylogenomics: A robust phylogeny of deeptheraphosid clades inferred from transcriptomedata sheds light on the prickly issue of urticatingsetae evolution. Molecular Phylogenetics &Evolution, https://doi.org/10.1016/j.ympev.2019.106573.

Fuchs J., von Dechend M., Mordasini R., Ceschi A. &W. Nentwig. 2014. A verified spider bite and areview of the literature confirm Indian ornamentaltree spiders (Poecilotheria species) asunderestimated theraphosids of medicalimportance. Toxicon, 77:73-77.

Galiano M.E. 1969. El desarrollo postembrionario larvalde Grammostola pulchripes (Simon, 1891)(Araneae, Theraphosidae). Physis, 29:73-90.

Galiano M.E. 1973. El desarrollo postembrionario larvalen Theraphosidae (Araneae). Physis SecciónC 32:37–46.Gertsch W.J. 1949. American Spiders. New York, VanNostrand, 285p.

Hammer Ø., Harper D.A.T. & P.D. Ryan. 2013. PAST:Paleontological statistics software package foreducation and data analysis. PalaeontologiaElectronica 4(1): 9pp. http://palaeo-electronica.org/2001_1/past/issue1_01.htm

Höer T. 1996. Auswirkungen eines Bisses vonPoecilotheria fasciata (Latreille 1804).Arachnologischer Magazin, 4: 8-10.

Kaderka R., Bulantová J., Heneberg P. & M.Xezá .2019. Urticating setae of tarantulas (Araneae:Theraphosidae): Morphology, revision oftypology and terminology and implications fortaxonomy. PLoS ONE, 14(11): e0224384.

Lüddecke T., Krehenwinkel H., Canning G., Glaw F.,Longhorn S.J., Tänzler R., Wendt I. & M. Vences.2018. Discovering the silk road: Nuclear andmitochondrial sequence data resolve thephylogenetic relationships among theraphosidspider subfamilies. Molecular PhylogeneticsEvolution, 119:63-70. https://doi.org/10.1016/j.ympev.2017.10.015 PMID: 29104141

Marshall S.D. & G.W. Uetz. 1990. The pedipalpal brushof Ephebopus sp. (Araneae: Theraphosidae):evidence of a new site for urticating hairs.Bulletin of the British Arachnological Society,8:122-124.

Mendoza J.I. 2014. Taxonomic revision of HemirrhagusSimon, 1903 (Araneae: Theraphosidae,Theraphosinae), with description of five newspecies from Mexico. Zoological Journal of theLinnean Society, 170:634-689.

Mendoza J.I. & O.F. Francke. 2018. Five new cave-dwelling species of Hemirrhagus Simon 1903(Araneae, Theraphosidae, Theraphosinae), withnotes on the generic distribution and novelmorphological features. Zootaxa, 4407, 451.Active or passive defense of uruguayan tarantulashttps://doi.org/10.11646/zootaxa.4407.4.1.

Perafán C., Galvis W., Gutierrez M. & F. Pérez-Miles.2016. Kankuamo, a new theraphosid genusfrom Colombia (Araneae, Mygalomorphae), witha new type of urticating setae and divergentmale genitalia. Zookeys, 601:89-109.

Perafán C. & F. Pérez-Miles. 2010. An unusual setuleon type IV urticating setae of Homoeommauruguayense (Araneae: Theraphosidae).Journal of Arachnology, 38:153–154.

Pérez-Miles F. 1998. Notes on the systematics of alittle known theraphosid spider Hemirrhaguscervinus, with a description of a new type ofurticating hair. Journal of Arachnology,26(1):120-123.

Pérez-Miles F. 2000. Iracema cabocla new genus andspecies of a Theraphosid spider from AmazonicBrazil (Araneae, Theraphosinae). Journal ofArachnology, 28:141-148.

Pérez-Miles F. 2002. The occurrence of abdominalurticating hairs during development inTheraphosinae (Araneae: Theraphosidae):Phylogenetic implications. Journal ofArachnology, 30:316-320.

Pérez-Miles F. & F.G. Costa. 1994. Acanthoscurriaatrox incorporates urticating hairs in theshedding mat. Forum of The American TarantulaSociety, 3(3): 63-64. USA.

Pérez-Miles F. & A. Locht. 2003. Revision and cladisticanalysis of the genus Hemirrhagus Simon 1903(Araneae, Theraphosidae). Bulletin of the BritishAracnological Society, 12(8): 365-375

Pérez-Miles F., Lucas S.M., da Silva P. & R. Bertani.1996. Systematic revision and cladistic analysisof Theraphosinae (Araneae: Theraphosidae)Mygalomorph, 1(3): 33-62.

Pérez-Miles F. & C.Perafán. 2015. Geographic patterns ofabdominal urticating setae types in NeotropicalTarantulas (Araneae, Theraphosidae). 22(4):103-116.

Pérez-Miles F. & L. Prandi. 1991. El comportamientode emisión de pelos urticantes en Grammostolamollicoma (Araneae, Theraphosidae): unanálisis experimental. 6:47-53.

Torres O. 1921. Algumas observações sobre a biologiadas aranhas do genero Theraphosa. Revistade Sciencias, Sociedade Brasileira de Sciencias5:181-185.

Turner S.P., Longhorn S.J., Hamilton C.A., Gabriel R.Pérez-Miles F. & A.P. Vogler. 2018. Re-evaluating Conservation Priorities of New WorldTarantulas in a Molecular Framework IndicatesNon-monophyly of the Genera Aphonopelmaand Brachypelma. Systematics and Biodiversity,16(1): 89-107.

WSC 2020. World Spider Catalog. Version 21.5. NaturalHistory Museum Bern, online at http://wsc.nmbe.ch, accessed on August 22, 2020.doi: 10.24436/2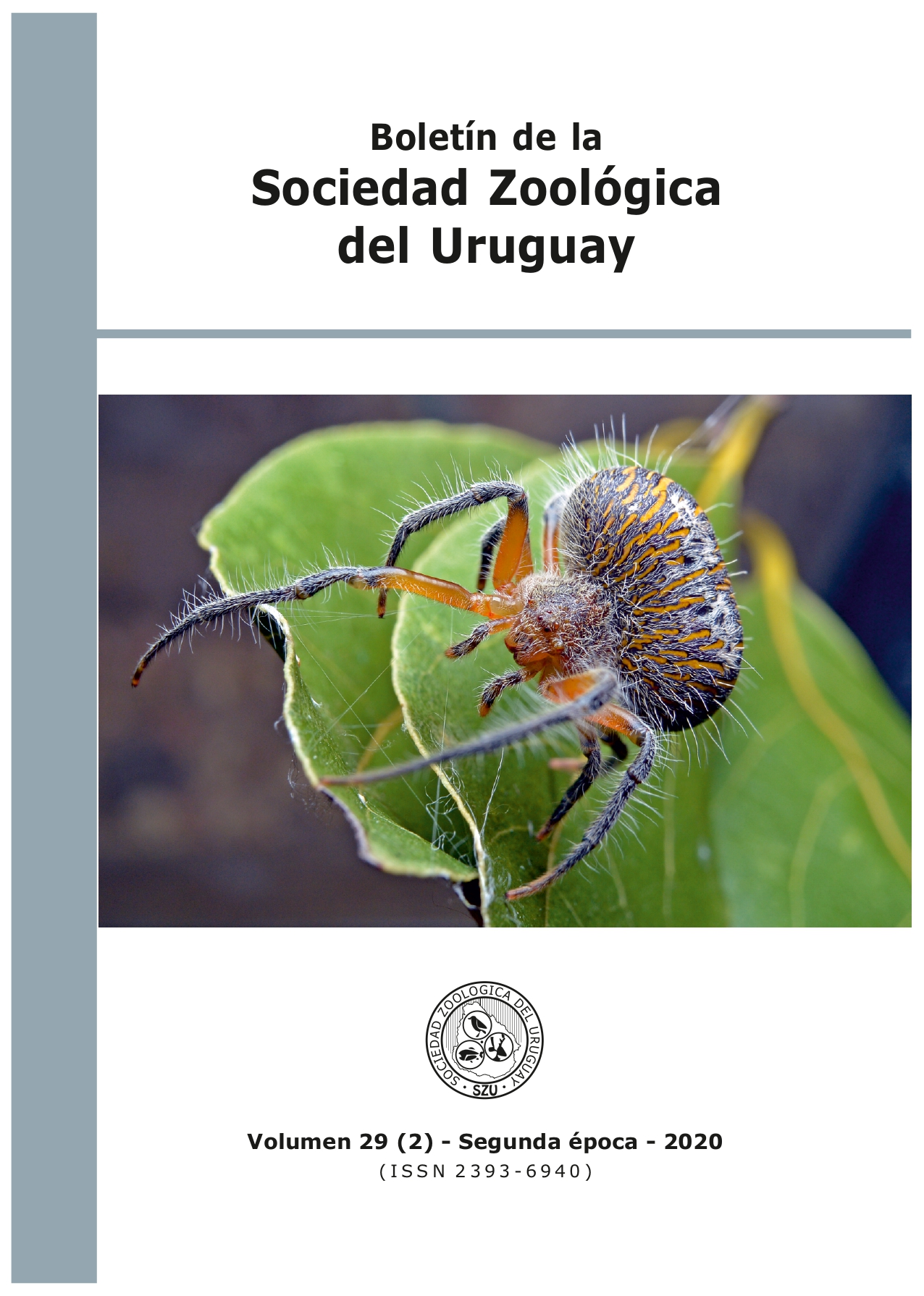 Descargas
Cómo citar
ORTÍZ-VILLATORO, D. E.; GONZÁLEZ-BARBOZA, M.; HILARIO, M.; RUSSI, E.; PERAFÁN, C. A.; PÉREZ-MILES, F. SETAS URTICANTES EN TARANTULAS DE URUGUAY: ¿DEFENSA ACTIVA O PASIVA?. Boletín de la Sociedad Zoológica del Uruguay, [S. l.], v. 29, n. 2, p. 66–72, 2020. DOI: 10.26462/29.2.3. Disponível em: https://journal.szu.org.uy/index.php/Bol_SZU/article/view/126. Acesso em: 24 jul. 2021.